Ingrediënten voor gluten-free almond flour porridge with cacao.
500 ml Almond milk
6-8 tablespoons almond flour
4 tablespoons Cacao (Amanprana Gula Java Cacao)
1 tablespoon Coconut blossom sugar (Amanprana Gula Java Brut)
1 Banana
4 Strawberries
Bereiding van gluten-free almond flour porridge with cacao.
Warm up the almond milk in a pan on the stove. Add the almond flour, the cacao and the coconut blossom sugar and allow to simmer for 10 minutes. Cut the banana and strawberries into cubes, dish the gluten-free porridge into two bowls and garnish with the fruit. For extra bite, you can add whole almonds. This almond flour porridge with fruit is a perfect way to start the day!
Tip van Stefano:
Adapto herbs give balance in stress situations. Ideal to start every day positively.
---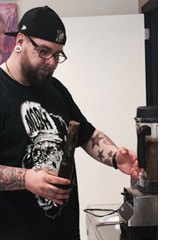 Stefano Vicinoadio
Wie is Stefano Vicinoadio? Wij hebben hem bij Amanprana leren kennen op een bio-beurs in Duitsland. Direct een warme ontmoeting waaruit een mooie samenwerking is ontstaan. Door het ontdekken van wederzijdse interesse (vegan, voeding, gezondheid) is de samenwerking gestart. Stefano is eigenlijk fotograaf, zijn passie. Zijn liefde voor koken zorgt voor de meest heerlijke recepten met mooie foto's, Stefano omschrijft zichzelf als kleurrijk, luid, veganistisch, vriend, ontdekker, digitale nomade en recht door zee.