Ingrediënten voor mediterranean avocado
1-2 ripe avocados
dash of lemon juice
10 sun-dried tomatoes, pepper, salt
tablespoon of dried or a handful of fresh Italian herbs
pinch of ground ginger
dash of olive oil, Hermanos Catalan
Amanprana Orac Botanico mix mild
Bereiding van mediterranean avocado
Peel and remove the stone from the avocados. Cut them into pieces and mash them into a mousse with a fork. Sprinkle a little lemon juice over the mousse to prevent the fruit going brown (oxidation). Always prepare avocados right before you need them otherwise they will discolour slightly, despite the lemon juice. Then add the ingredients from one of the recipes mentioned overleaf.
Tip van Rineke:
Regular consumption of avocado is particularly beneficial for those who suffer from constipation. The addition of a pinch of ginger makes it a tried-and-tested method of 'educating' the intestines. Recipe from the cookbook "Weten van (h)eerlijk eten" (Knowing how to eat well) by R.Dijkinga, orthomolecular therapist and naturopath
---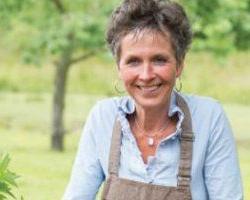 Rineke Dijkinga
Rineke Dijkinga is een orthomoleculair en natuurgeneeskundige welke ook nog eens ontzettend veel van voeding weet. Ze is overtuigd van de goede werking van (biologische) voeding en gaat er vanuit dat kruiden en specerijen van grote invloed zijn op onze energie, onze stemming en ons gewicht. Lekker en goed eten gaan hand in hand. Wij van Amanprana hebben diverse recepten mogen ontwikkelen en verzamelen met Rineke Dijkinga. auteur van 'Alles draait om je hormonen' 'Weten van (h)eerlijk eten 1 & 2' en 'Weetjes over (h)eerlijk eten'. Ze wilt hierin vooral overbrengen dat kruiden en specerijen belangrijk zijn, we beter biologische eten en meer preventief om zouden dienen te gaan met preventie.