Non-alcoholic cocktail from Chantal Voets can be prepared in 5 minutes. You make this dish with Dried lemon, Matcha & Tea from Amanprana. This recipe from the Asian kitchen is delicious as Drinks & Drink. It also fits perfectly in a Raw food, Vegetarian, Gluten free, Vegan, Low carbohydrate & Lactose-free diet.
Ingredients for non-alcoholic cocktails
3 tablespoons of lukewarm water
1 verbena leaf
crushed ice
whisk (optional)
How to make a Matcha & Yuzu mocktail
Dissolve the Matcha powder in lukewarm water (best done with a whisk to avoid lumps). [Would you like to know how to make the perfect matcha? Read the inspiration article Preparing Matcha, the Japanese art of tea making, chado ].

Fill your glass with crushed ice.

Pour in the Matcha tea.

Then a bottle of Lemon Yuzu.

Garnish with a verbena leaf and spice up this delicious mocktail with a slice of dried black lemon.
Incredibly delicious!
Mocktail as an aperitif.
A mocktail is another word for a non-alcoholic cocktail. This mocktail with matcha and Yuza is ideal to serve as a non-alcoholic aperitif in the summer, but it is also a fabulous aperitif in the winter or during the holidays. Instead of crushed ice, add 2 or 3 ice cubes.
---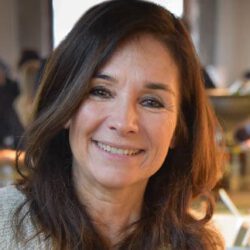 Chantal Voets
Chantal Voets, co-founder of Amanprana, loves cooking and prefers to share her knowledge, all kinds of facts and inspiration to anyone who wants to know.