Tomato soup with tofu and red palm oil from Chantal Voets can be prepared in 20 minutes. You make this dish with Fleur de sel & Red palm oil from Amanprana. This recipe from the Mexican, Belgian & Dutch kitchen is delicious as Side dish, Lunch, Snack, Appetizer & Soup. It also fits perfectly in a Vegetarian, Gluten free & Vegan diet.
Ingredients for tomato soup with tofu and red palm oil
2 tablespoons of red palm oil
1 chopped red onion
6 large tomatoes, peel removed and chopped
or 1 can of peeled organic tomatoes
2 garlic cloves,
100 g of silk tofu
2 tablespoons of parsley or coriander (cilantro), finely chopped
2 cups of vegetable stock
pinch of cayenne pepper with unrefined salt
Preparation of tomato soup with tofu and red palm oil
Put two tablespoons of red palm oil in a pot and fry the onion and garlic. Add the tomato. Sauté the tomatoes for 3 minutes and add the tofu. Add the water, season with herbs. Bring to a boil and then mix. Finish with parsley or coriander.
---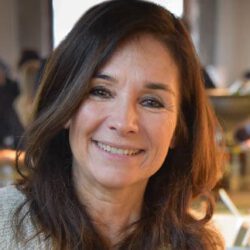 Chantal Voets
Chantal Voets, co-founder of Amanprana, loves cooking and prefers to share her knowledge, all kinds of facts and inspiration to anyone who wants to know.