Coconut blossom juice and its many uses.
One of them is the concentration of unfermented coconut blossom juice into coconut blossom sugar(organic coconut sugar).
Coconut blossom juice or nectar is called Toddy. It is the juice from both female and male coconut blossom. A small piece of the blossom is cut off each day. After mild fermentation, its juice can be sold as "Tuba", a crude coconut wine with 4-6% alcohol content, as vinegar (after further fermentation), or as "lambanog", a distilled wine with an alcohol content of 24 to 25%. In its virgin unfermented state, however, it serves to produce powdered or crystal coconut blossom sugar, or syrup.
Coconut blossom sugar is perfect for use in confectionery and cooking.
Coconut blossom sugar (a type of palm sugar, deliberately chosen by Amanprana) is a perfect substitute for cane or beet sugar in a 1:1 ratio. It has a low melting point and a high flash point: perfect for confectionery. Coconut blossom sugar (organic coconut sugar) also fully dissolves in water or humid dough, leaving no traces. That is because it is a concentrated juice. Amanprana coconut blossom sugar has a lovely flavour, its GI levels (35) are low and its antioxidant levels high (high ORAC); it is environmentally friendly and recognised as the most sustainable sugar by the FAO (check label).
Amanprana uses the juice of the Cocos Nucifera blossom.
In Africa, the juice is produced by date palm trees such as the Silver Date (Phoenix Silvestris), the Palmyra, the Jaggery Palm (Caryota Urens) and the African Oil Palm tree (Elaeis Guineese), but also by Raffia, Kithul and Nipa Fruticans palm trees (mangrove palm trees). In Indonesia and South Asia, the juice comes from the coconut palm tree (Cocos Nucifera) and palmyra trees such as the Arecaceae, Arenga Pinnata and Borassus. The Lala palm tree (Hyphaena coriacea) is the producer in Mozambique and in Congo it is the oil palm tree, raffia palm tree, coconut palm tree or the short palm tree (Savannah palm tree). The basis is usually the blossom juice supplied by each palm tree. Concentration is done over a wood fire; sometimes an oven, designed by "Gret" (ngo) for rice bran, is used. Sugar names are often intermingled, but each palm basically yields a different kind of sugar. In addition, the word "jaggery" is also used to describe concentrated cane sugar juice.
Examples of palm sugar (cane sugar) names used through one another are:
Birma: jaggery, tanyet; India: jaggery (raw cane sugar), gur (date palm sugar); Indonesia: gula jawa, gula java, gula aren; Malaysia: gula melaka; gula anau Sri Lanka: jaggery, kitul-hakuru, tal-hakuru, pol pani; Thailand: nam taan pep, nam taan bik, nam taan mapraow;
Coconut blossom sugar
Gula Java coconut blossom sugar can be used as a substitute for any other type of sugar. It is used in tea and coffee, for baking, in cocktails, to refine dishes and because of its creamy-sweet taste with a hint of caramel, it is ideal as a snack.
Coconut blossom sugar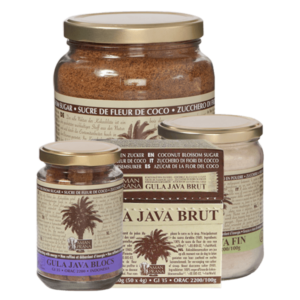 Read more about Coconut blossom sugar