Detox drink from Chantal Voets can be prepared in 5 minutes. You make this dish with 4-Algae botanico-mix from Amanprana. This recipe from the Belgian, Dutch & French kitchen is delicious as Drinks, Breakfast & Drink. It also fits perfectly in a Raw food, Vegetarian, Gluten free, Vegan, Low carbohydrate & Lactose-free diet.
Ingredients for detox drink
1 cup of water
Juice of 1 lemon
1 frozen banana (or a fresh one)
1 cup of kale from which the stems have been removed
Preparation of detox drink
Put the ingredients in the Vitamix or blender in the order listed above.

Pulse this until you get a smoothie with a smooth consistency.

Serve in a nice glass
Detox drink with seaweed
Seaweed is a great source of protein and iron. In addition, it is also a source of iodine, calcium, phosphorus, magnesium, sodium, potassium and vitamin B.Amanprana's herbal mix 4-algae has been specially developed to easily and quickly add seaweed to your dishes. This seaweed mix contains kombu (brown seaweed), sea lettuce (green seaweed), dulse and nori (red seaweed) and is supplemented with Fleur de sel. A perfect substitute for salt and pepper. Read more about seaweed and algae on our inspiration page.
Tip from Chantal:
Delicious with a dash of mint, coriander or leaf parsley as well!
---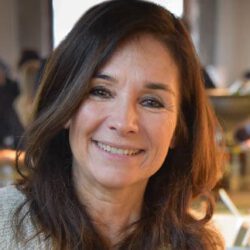 Chantal Voets
Chantal Voets, co-founder of Amanprana, loves cooking and prefers to share her knowledge, all kinds of facts and inspiration to anyone who wants to know.