Meatloaf with cherries from Chantal Voets can be prepared in 10 minutes. You make this dish with from Amanprana. This recipe from the Belgian kitchen is delicious as Main dish & meat substitute. It also fits perfectly in a Vegetarian & Vegan diet.
Ingredients for meatloaf with cherries
1 sachet Protein Vegan Mix (150 g)
120 to 150 ml cherry juice
2 jars of cherries
Preparation of meatloaf with cherries
Place the dry mass in a large bowl.

Add the cherries to the dry seitan mix.

Then add 120 to 150 ml of cherry juice.

Mix briefly to a homogeneous mass.

Place the mixture in an oven dish and bake the meatloaf at 180° in the oven for about 30 minutes.

Meanwhile, heat the second jar with cherries and sauce in a saucepan.
---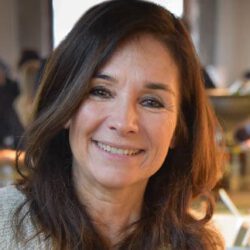 Chantal Voets
Chantal Voets, co-founder of Amanprana, loves cooking and prefers to share her knowledge, all kinds of facts and inspiration to anyone who wants to know.