Peanut – coconut paste from Chantal Voets can be prepared in 0 minutes. You make this dish with Coconut oil from Amanprana. This recipe from the Asian, Belgian & Dutch kitchen is delicious as Tapas & snacks, Side dish, Lunch, Brunch, Dip and more & Salsa & Sauce. It also fits perfectly in a Vegetarian, Gluten free, Vegan & Raw food diet.
Ingredients for peanut – coconut paste
125 grams of peanut cashew mix (spicy)
100 ml of coconut oil extra virgin
Preparation of peanut – coconut paste
Grind peanuts or other nuts.

Add coconut oil, mix and you will obtain a delicious and easy to prepare sandwich spread.
Tip from Chantal:
Extra virgin coconut oil is liquid from 25°C and easy to spread as a butter between 10°C and 25°C.
---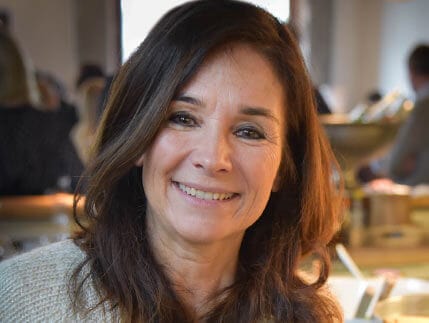 Chantal Voets
Chantal Voets, co-founder of Amanprana, loves cooking and prefers to share her knowledge, all kinds of facts and inspiration to anyone who wants to know.