Sweet potato soup (spicy) from Chantal Voets can be prepared in 25 minutes. You make this dish with Coconut oil, olive oil and red palm oil & Adapto botanico-mix from Amanprana. This recipe from the Belgian & Indonesian kitchen is delicious as Drinks, Appetizer, Side dish, Lunch & Soup. It also fits perfectly in a Vegetarian, Gluten free, Vegan & Lactose-free diet.
Ingredients for sweet potato soup (spicy)
onion, finely chopped
2 cloves garlic, crushed
3 cm fresh ginger root, finely chopped
1 stalk lemongrass, finely chopped
1 red chilli, cut into thin rings, some extra for garnish
3 limes, 1 squeezed, 2 cut into wedges
1 teaspoon Cocos-olive-palm
500 g sweet potatoes (approx. 2 large ones), peeled and cut into large cubes
500 ml coconut milk
500 to 1000 ml water
Preparation of sweet potato soup (spicy)
To make the herb paste put onion, garlic, ginger, lemongrass, chilli, lime juice and half of the oil in the blender and puree until obtaining a smooth mass (add a little water if necessary). Pour the rest of the oil into a deep pan. Add the herb paste and stir-fry on low heat for 5 minutes. Add the sweet potatoes, the coconut milk and the water. Let simmer until the potatoes are cooked. Puree until obtaining a smooth soup. Garnish with the rings of chili and serve with the lime wedges.
---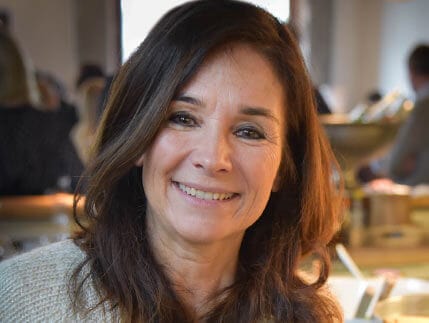 Chantal Voets
Chantal Voets, co-founder of Amanprana, loves cooking and prefers to share her knowledge, all kinds of facts and inspiration to anyone who wants to know.