Parsnip and black garlic Halloween soup from Chantal Voets can be prepared in 15 minutes. You make this dish with Dried lemon, Fleur de sel, Black garlic & Olive oil - Amanprana Premium from Amanprana. This recipe from the Belgian, Dutch & French kitchen is delicious as Appetizer & Soup. It also fits perfectly in a Vegetarian, Gluten free, Vegan & Lactose-free diet.
Ingredients
1 onion
1 bunch of celery
2 tbsp olive oil
400 grams parsnip
250 grams of potatoes
1 vegetable stock cube
4 cloves of black garlic
Pinch of Fleur de Sel
Black pepper
Thyme
1 teaspoon black lemon powder
Preparation of parsnip and black garlic halloween soup
Peel the onion and slice the celery into pieces. Finely chop up both.

Place a pan on medium heat with 1 tablespoon of olive oil.

Add the vegetables and fry them for a couple of minutes on low heat.

Chop the parsnip and potatoes into small chunks and add these.

Add water until everything is completely covered.

Crumble the vegetable stock cube into this and let it simmer until everything is cooked.

Garnish the soup with the herbs.

Pour the soup into bowls.

Puree the black garlic and use this mixture to make a cobweb or a bat in each bowl.
---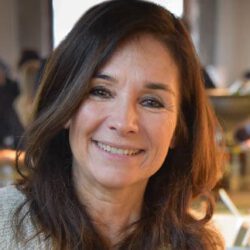 Chantal Voets
Chantal Voets, co-founder of Amanprana, loves cooking and prefers to share her knowledge, all kinds of facts and inspiration to anyone who wants to know.