Sweet potato waffles with mango and Turmeric Latte from Chantal Voets can be prepared in 55 minutes. You make this dish with Coconut oil, Gula Java Safran, Coconut blossom sugar, Lattes & Latte Kurkuma from Amanprana. This recipe from the Indian, Asian & Belgian kitchen is delicious as Desserts, Snack, Breakfast & Cake and biscuit. It also fits perfectly in a Vegetarian, Gluten free, Ayurveda, Low carbohydrate & Lactose-free diet.
Ingredients
For waffles
250 g sweet potato (1 large) peeled, cut into pieces and cooked
200 g buckwheat flour
200 ml almond drink (available on Amanvida)
4 eggs
½ tablespoon of gluten-free baking powder
1 tablespoon of coconut blossom sugar
1 tablespoon of coconut oil
+ a little extra to grease the waffle iron
For the topping:
Preparation of sweet potato waffles with mango and turmeric latte
Mix the sweet potato in the blender with the buckwheat flour, the almond drink, eggs, baking powder, oil, coconut blossom sugar and a pinch of salt.

Heat the waffle iron, grease it and cook the waffles.

While waiting, cut the mango into small pieces, warm it up in a little coconut oil and add 1 tablespoon of Turmeric Latte. Delicious as a topping on waffles with a teaspoon of GJ saffron, garnished with some edible organic flowers - Original and delicious!
What is Turmeric?
Turmeric is a spice extract of the 'Curcuma longa' plant. Turmeric is a solid component of curries, and also gives it its flavour and yellow colour. The taste of turmeric is slightly bitter and peppery and is a widely used herb in Eastern cuisine. Apart from the example in this recipe, turmeric can also be used in sauces, as a salad dressing, in salsas or in drinks. Turmeric tea, for example, is a healthy tea that is easy to make and as a wonderfully rich flavour too. And don't forget turmeric for your barbecue! Your barbecues become more colourful, tastier and healthier.
Is turmeric good for you?
Curcuma longa, or turmeric, is from the ginger family, and shares a lot of its healthy properties Turmeric has, for example, been used for thousands of years as a remedy for all kinds of ailments in Ayurvedic and Chinese medicine. Turmeric can be used both internally and externally. The most important substance in turmeric is curcumin, which is an antioxidant with an anti-inflammatory effect.
Tip from Chantal Voets:
With the lattes you can make endless variations - its not just a drink, but is also perfect on your breakfast cereal, on oatmeal, on pancakes and waffle ... let your imagination go wild!
---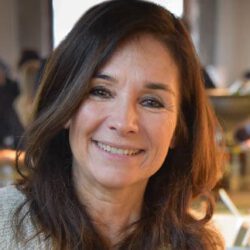 Chantal Voets
Chantal Voets, co-founder of Amanprana, loves cooking and prefers to share her knowledge, all kinds of facts and inspiration to anyone who wants to know.