Ingredients for tomato, mozzarella and balsamic vinegar tartare
2 mozzarella balls
4 tomatoes
2 dessert spoons of basil paste
2 dl Hermanos Catalan olive oil
50 ml bio balsamic vinegar
freshly ground pepper
a pinch of Amanprana Orac Botanico herb mix Mild
1 bundle of fresh basil
1 dessert spoon of agave syrup
Preparation of tomato, mozzarella and balsamic vinegar tartare
Cut the mozzarella into cubes. Take the tomatoes and cut them into quarters. Remove the seeds and cut into cubes as well. Take the bundle of basil and chop it finely. Take a bowl and mix the basil paste, the oil, the agave syrup, pepper and salt well until obtaining a smooth dressing. Add the tomato cubes, the mozzarella and the finely chopped basil and mix everything well. Take a small mould or e.g. a small glass. Fill this with the mixture, press well and empty it upside down onto a nice plate. Around the tartare you can dress the dish with, for instance, balsamic syrup (put a pan with 1 cm balsamic vinegar on low heat, add agave syrup and let it reduce until syrupy) or olive oil. Garnish with basil leaves.
Tip from Chantal:
Delicious as an appetiser.
---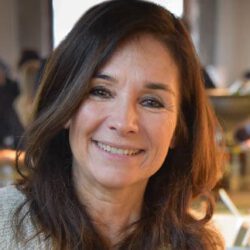 Chantal Voets
Chantal Voets, co-founder of Amanprana, loves cooking and prefers to share her knowledge, all kinds of facts and inspiration to anyone who wants to know.