Tortilla from Chantal Voets can be prepared in 10 minutes. You make this dish with Olive Oil - Verde Salud from Amanprana. This recipe from the Mexican kitchen is delicious as . It also fits perfectly in a Vegetarian diet.
Ingredients for tortilla
8 large potatoes
6 eggs
2 tbsp pesto
2 tbsp tomato sauce
1 teasp unrefined sea salt
a pinch of cayenne pepper
a pinch of paprika powder
8 black olives cut into little pieces
8 dried tomatoes cut into little pieces
1 onion
2 cloves garlic
Extra virgin olive oil Verde Salud
Preparation of tortilla
Cook the potatoes unpeeled. Chop the onion into small pieces, together with the garlic cloves and fry everything on low heat in a little extra virgin olive oil.When the potatoes are ready, let them cool off and cut them into cubes of approx. 2 cm. Take a big bowl and beat the eggs. Flavour with a pinch of cayenne pepper, unrefined sea salt and a little paprika powder.Add the potato cubes, together with the pesto, tomato sauce, olives, dried tomatoes, onion and garlic mixture.Grease a baking tin with oil, put all ingredients in and press everything together well. The top can be covered with some tomato sauce if desired.Bake the tortilla for 20 minutes on 170°C. Turn the oven off and leave the tortilla in the oven for another ten minutes or so.Then let the tortilla cool off and take it out of the baking tin (covering it with a plate and then turning it upside down).
Tip from Chantal:
Very tasty with a salad, or as an appetiser.
---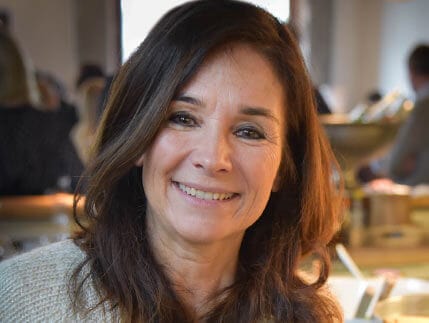 Chantal Voets
Chantal Voets, co-founder of Amanprana, loves cooking and prefers to share her knowledge, all kinds of facts and inspiration to anyone who wants to know.