Ingredients for multigrain bread witch coconut oil
about 300 ml (with 500 g flour) water (or buttermilk, coconut milk, oat milk or rice milk)
dash of olive oil or a large tablespoon of melted extra virgin coconut oil (Amanprana)
handful of sunflower seeds or pumpkin seeds
handful of sesame seeds
a couple of spoonfuls of millet
a couple of tablespoons oat bran
a couple of tablespoons buckwheat flour
1 egg
you could also add 100 gram almond flour (if you are overweight/always crave snacks/are hypoglycaemic) or 1 full tbsp or coconut fibre (Amanprana) or inulin powder for people with 'slow guts'.
you could also add 2 teaspoons of cinnamon, a little cardamom, a dash of maple syrup or stevia and some chopped nuts if you prefer to make nutty bread.
If you have a ready-to-use bread mix, add a little sourdough, baking soda or yeast
Preparation of multigrain bread witch coconut oil
Mix the bread mix with the other ingredients by hand or in the bread machine. Only use the kneading/proving programme on your bread maker so that you can leave it to rise for four hours. This will enable more phytanic acid to be broken down. Place the dough in the spring-form tin or craft your own loaf shape by hand. Bake the bread for about 45 minutes in an oven pre-heated to 150 degrees.
Tip from Rineke:
In the supermarkets, you often find breads and bread mixes that are very dark brown in appearance. You may well think the darker the healthier. Unfortunately, this type of bread often contains flour and has been darkened using caramel sugar. Make sure you always read the packaging. Recipe from the cookbook "Weten van (h)eerlijk eten" (Knowing how to eat well) by R.Dijkinga, orthomolecular therapist and naturopath.
---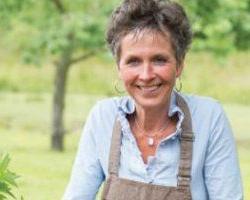 Rineke Dijkinga
Rineke Dijkinga is specialist in orthomolecular medicine and naturotherapy and also knows an extraordinary amount about nutrition. She is firmly convinced of the beneficial effects of (organic) foods and believes that herbs and spices play a major role in our energy levels, our mood and our weight. To her, delicious food are one and the same thing. Here at Amanprana we have had the opportunity to create and collect various recipes together with Rineke Dijkinga, author of "Alles draait om je hormone" (It's All About Your Hormones), "Weten van (h)eerlijk eten 1 & 2" (What You Need to Know About Fair Food) and Weetjes over (h)eerlijk eten (Fair Food, the Facts). Her main aims are to highlight how important herbs and spices are, that we should opt for organic food and that we should focus on the preventative in prevention.