Ingredients for walnut oil vinaigrette
1 tablespoon mustard with horseradish (e.g. Hobbit)
1 teaspoon raspberry vinegar
1 tablespoon Lavender-Rose Hip Syrup (Gut zum Leben) or Elderflower Cordial
8 tablespoons extra virgin walnut oil from the Périgord (Amanprana)
pinch of cayenne pepper
pinch of unrefined sea salt or Himalayan salt
Preparation of walnut oil vinaigrette
Mix all the ingredients together to create a delicious vinaigrette!
Tip from Chantal:
Cayenne Pepper: generally has a stimulating effect and promotes resistance at the beginning of a cold. Acts as an antiseptic, pain relief and is good for the blood circulation. Ideal for shivery persons.
---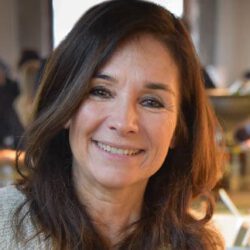 Chantal Voets
Chantal Voets, co-founder of Amanprana, loves cooking and prefers to share her knowledge, all kinds of facts and inspiration to anyone who wants to know.