Wok-fried vegetables with hazelnuts from Chantal Voets can be prepared in 20 minutes. You make this dish with Red palm oil from Amanprana. This recipe from the Asian kitchen is delicious as Main dishes, Lunch, Salad & Stew. It also fits perfectly in a Vegetarian, Gluten free & Vegan diet.
Ingredients for wok-fried vegetables with hazelnuts
2 tablespoons of red palm oil
1 tablespoon of Raz-el-Hanout (herb mixture)
1 large sweet potato, peeled and diced
500 grams of Brussels sprouts,
cauliflower or fennel, ...
300 ml of vegetable stock
100 g hazelnuts
Preparation of wok-fried vegetables with hazelnuts
Roast the hazelnuts in a dry frying pan till they are golden-brown. Use your sprouts, steam them first. Heat the red palm oil in your wok, fry the herbs, add the vegetables and stir-fry.Add the vegetable stock and let the vegetables sit a while longer. Turn over a few times until they are done. Sprinkle hazelnuts and turn over. Delicious with rice, quinoa and pasta.
---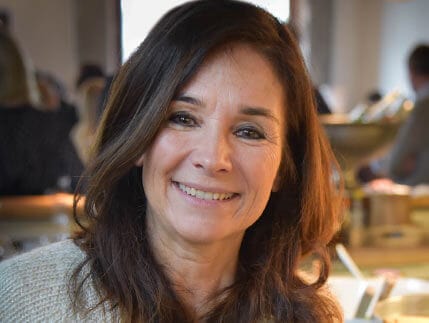 Chantal Voets
Chantal Voets, co-founder of Amanprana, loves cooking and prefers to share her knowledge, all kinds of facts and inspiration to anyone who wants to know.