Green asparagus Tempura in Coconut oil from Chantal Voets can be prepared in 10 minutes. You make this dish with Coconut oil from Amanprana. This recipe from the Asian kitchen is delicious as Tapas & snacks, Appetizer, Side dish, Lunch & Dip and more. It also fits perfectly in a Vegetarian diet.
Ingredients for green asparagus tempura in coconut oil
For the batter
Japanese breadcrumbs
1 cup ice water
1 cup flour
1 egg yolk
Preparation of green asparagus tempura in coconut oil
Cut the hard tips off the asparagus. Make the batter: put the egg yolk in a bowl, stir it together with the water, Add the flour in one movement, briefly stir to mix everything (the batter does not need to be very smooth). Do not make too much batter at once. Then dip the asparagus in the batter and then in the breadcrumbs. Deep-fry immediately on 165°C in delicious coconut oil.
Tip from Chantal:
Serve as an appetiser with Ginger Thai soy sauce (Lima).
---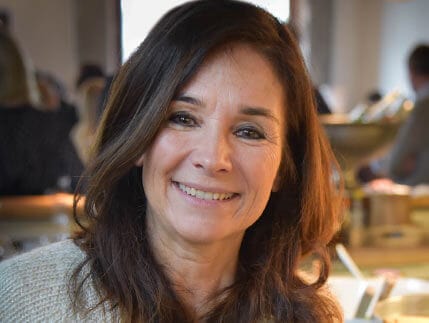 Chantal Voets
Chantal Voets, co-founder of Amanprana, loves cooking and prefers to share her knowledge, all kinds of facts and inspiration to anyone who wants to know.