Ingredients for banana-lemon cake
4 eggs
100 gram cream cheese
1 tbsp extra virgin coconut oil (Amanprana) (melt gently au bain marie)
5 ripe bananas
3 tbsp oat bran
approx. 300 gram fine rolled oatscinnamon cardamom
pinch of ground vanilla
4-5 tsp Gula Java Fin (coconut blossom sugar Amanprana)
50 gram grated coconut or a full tablespoon coconut flour (Amanprana)
50 gram almond flour
3 tbsp sunflower seeds
1 bag chopped, mixed (unroasted) nuts or a bag of almond flakes
1 organic lemon (juice and zest)
you may wish to add 2 teaspoons binding agent such as arrowroot, kuzu or agar agar
Preparation of banana-lemon cake
Puree the eggs, cream cheese, coconut oil and bananas. Add all of the ingredients except for the lemon and mix well. Wash the lemon and mix the grated zest into the mixture. Press the lemon and then add the juice and mix in. Taste. It should taste very lemony otherwise it will be too sickly. Put the mixture into a springform pan and bake in the oven for about an hour at 160 degrees. You will end up with a sturdy cake that is great for freezing. The cake is also ideal as a meal or snack if you go out for the day.
Tip from Rineke:
This cake will provide many hours of energy for your head and your body. Recipe from the cookbook "Weten van (h)eerlijk eten" (Knowing how to eat well) by R.Dijkinga, orthomolecular therapist and naturopath.
---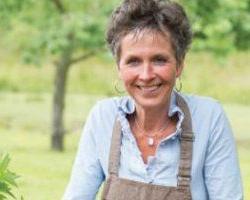 Rineke Dijkinga
Rineke Dijkinga is specialist in orthomolecular medicine and naturotherapy and also knows an extraordinary amount about nutrition. She is firmly convinced of the beneficial effects of (organic) foods and believes that herbs and spices play a major role in our energy levels, our mood and our weight. To her, delicious food are one and the same thing. Here at Amanprana we have had the opportunity to create and collect various recipes together with Rineke Dijkinga, author of "Alles draait om je hormone" (It's All About Your Hormones), "Weten van (h)eerlijk eten 1 & 2" (What You Need to Know About Fair Food) and Weetjes over (h)eerlijk eten (Fair Food, the Facts). Her main aims are to highlight how important herbs and spices are, that we should opt for organic food and that we should focus on the preventative in prevention.