Vegetarian BBQ on Charcoal with Dry Rub Hot Dogs from Chantal Voets can be prepared in 10 minutes. You make this dish with Coconut oil, Fleur de sel, Fried garlic & Coconut blossom sugar from Amanprana. This recipe from the American kitchen is delicious as Main dishes & BBQ. It also fits perfectly in a Vegetarian, Vegan & Lactose-free diet.
Ingredients
2 large aubergines
2 Tbsp spice rub or dry rub (homemade herbal mix)
4 Tbsp melted extra virgin coconut oil
4 rustic hot dog buns
4 Tbsp ketchup or other preferred sauce
Ingredients for the homemade dry rub
3 Tbsp Khoisan fleur de sel
3 Tbsp coconut blossom sugar
1 tsp smoked paprika (can be spiced up)
2 tsp paprika powder
3 tsp curry powder
3 tsp fried garlic
Preparation
Mix all the dry rub ingredients together. (You can make this at any time and store it in an airtight sealed jar.)

Cut the aubergines lengthwise into slices.

Sprinkle the dry rub mix over the slices and add the running coconut oil.

Rub the dry rub mix together with the oil into the aubergine slices.

Leave them like this for a while, at least half an hour or overnight, so that the spice mix (rub) can be properly absorbed.

Grill the aubergines on a gently smouldering (charcoal) BBQ or in a grill pan until they are all cooked and lightly charred.

Cut the hot dog buns open and briefly grill them face-down.

Spread ketchup or any preferred sauce on the buns.

Place a slice (or two) of aubergine on top and garnish with a few spoons of kimchi.

Bon appétit!
You may have heard of 'spice rub' or 'dry rub', but what exactly is this?
What is a 'dry rub'?
A dry rub or spice rub is a mixture of dried herbs and spices to season something, like the aubergines in this recipe. Aubergines are particularly suitable for this as they absorb the flavours quickly.
The herbs and spices used are always dried and preferably coarsely ground. This makes it easier to spread the rub evenly over the aubergines or (vegetarian) meat.
A dry rub always includes sugar, salt and paprika powder. For this vegetarian BBQ recipe, we chose coconut blossom sugar (raw sugar; read about the benefits here), fleur de sel (unrefined sea salt; Filtered by Mother Nature), smoked paprika and regular paprika. And as if it this isn't already tasty in and of itself, we also add curry powder and fried garlic.
The coconut blossom sugar caramelises the aubergines, whereas the fleur de sel draws the moisture out of the aubergine, allowing it to really absorb the herbs.
Dry rubs or spice rubs are traditionally found in the North American cuisine, but they are now gaining popularity at BBQs here in Europe as well.
---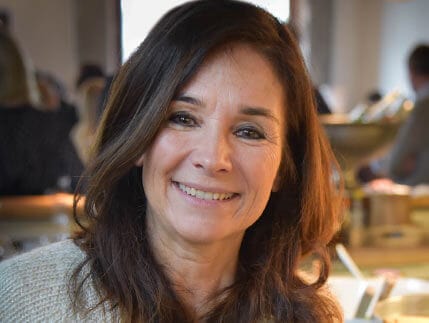 Chantal Voets
Chantal Voets, co-founder of Amanprana, loves cooking and prefers to share her knowledge, all kinds of facts and inspiration to anyone who wants to know.