The natural ingredients of Shangri-la serum
Shangri-la is 100% Skin food, organic and plant-based. Plant-based organic ingredients to protect the face for eternal youth and preserve the natural appearance of the face, neck and neckline.
The powerful antioxidants in Shangri-la come from three plant-based base oils and thirteen essential oils. Skin food in its purest form enriched with thirteen superfoods. Your health and looks will thank you. No single superfood contains more antioxidants than the thirteen essential oils in the Shangri-la Orac formula.
Shangri-la: face care good enough to eat.
At Amanprana, we believe: 'If you can't eat it, don't put it on your skin'.
Why Skin food? Because it has been sufficiently proven that the things we put on our skin are absorbed by the skin, and some ingredients can also enter the rest of the body via the bloodstream and the lymphatic system.
That's why Shangri-la is skin food. 100% superfood made from 100% oil extracts from plants, fruit and spices. Shangri-la contains 0% chemicals.
Shangri-la feeds the skin and the body without weighing them down. 100% skin food. The skin can restore and rejuvenate itself; but Shangri-la can help.
The three plant-based base oils in Shangri-la. 100% superfood for the skin.
Organic extra virgin almond oil
Mandeln für einen ausgeglichenen Feuchtigkeitshaushalt. Almond oil is an outstanding base oil for any skin type. It regulates the moisture content of facial skin and eye contours and reduces skin irritation. Drier, flaky, more mature skin will benefit the most from this oil with its nourishing and soothing properties. Almond oil smoothes easily over the face, neck and neckline and is absorbed quickly, so that the skin doesn't stay greasy for long after the application of Shangri-la oil.

Organic extra virgin olive oil
Olive oil has the ability to absorb and retain moisture, so it has a balancing effect on facial skin and around the eyes. Olive oil also contains vitamin E, carotene and minerals and is very rich in antioxidants, so it delays the ageing process of cells.

Organic extra virgin red palm oil
Red palm oil contains up to ten times more carotene than carrots and thirty times more than tomatoes. Carotene is particularly good for facial skin and around the eyes, and should be applied daily. Red palm oil is also the richest source of tocotrienols, which is the name given to certain specific forms of vitamin E, which among other things are stored in the skin and protect from skin ageing and sun damage. Tocotrienols fight age spots and wrinkles. They have a soothing and strengthening effect on the skin, and help protect it from outside influences.
These thirteen essential oils make up the Orac formula of the Shangri-la anti-ageing serum.
Organic bergamot
Bergamot as skin food, protection for the skin Bergamot oil has a wonderfully fresh scent and unique properties for the face, eye area, neck and décolleté. It protects the skin against external influences. It soothes the skin and heals inflammation, infection and small wounds. In addition, it naturally has a cooling and refreshing effect on the skin.

Organic myrtle
This heavenly oil from the "tree of love" has a cleansing and purifying effect on facial skin and works well to combat pimples and blackheads. Myrtle provides the ideal assistance to keep facial skin healthy and flawless. A pleasant oil which combats external dirt, thereby counteracting oxidation, ageing and slackening of the skin of the face, eye contours, neck and neckline.

Organic sage
Sage oil has a long-term skincare and healing effect through its antibacterial and antifungal properties. It gives infections no chance to break out. Sage cleanses and inhibits excessive production of sebum, which causes greasy facial skin. The skin is protected from external dirt so it remains healthy and young.

Organic cinnamon
Cinnamon has a general antibacterial effect. Cinnamon oil prevents dirt from penetrating the skin of the face and causing damage. It also stimulates the blood flow, so that oxygen is transported more quickly in our blood, for healthier facial skin and greater radiance.

Organic rosemary
Rosemary is a boosting oil which stimulates the flow of blood through the skin, speeding up the oxygen exchange in the region of the facial skin. This makes the skin healthier and more radiant. Rosemary has anti-inflammatory and antibacterial properties. This means it can protect facial skin from outside influences. It has a nourishing and restorative effect for a range of skin problems.

Organic basil
Basil is like a refreshing tonic for the face and has anti-inflammatory and anti-infective properties. It regulates the moisture content and protects facial skin from UV rays and other negative effects of the sun which are partially responsible for skin ageing. Basil has a protective and purifying function.

Organic rose geranium
Rose geranium contributes to smooth, strong, elastic skin around the face, eye contours, neck and neckline. It soothes and restores irritated or damaged skin. Its purifying and regenerative effect contributes to beautiful, even, healthy facial skin.

Organic roses
This blissful rose oil is the perfect oil for regeneration and elasticity of facial skin. Dry, sensitive and more mature skin will benefit most from this oil. It softens fine lines and wrinkles and brings out the natural radiance of facial skin. It stimulates cell renewal in underlying skin layers so that the face retains its youthful radiance for longer. Rose oil also contains a high energy value, so that facial skin has more energy, colour and radiance.

Organic thyme
Thyme has a general cleansing effect. It has an antibacterial and fungicidal action so it is effective for numerous skin conditions. It has a purifying effect on dirty facial skin. Thyme oil gives good protection from outside influences.

Organic cloves
Cloves have antibacterial and antiseptic properties and a preventative and protective action against infection and inflammation. Clove oil also works to disinfect and restore grazes and skin problems in general. A very exciting oil to strengthen and protect the facial skin, eye contours, neck and neckline from external damage.

Organic oregano
Oregano stimulates the blood flow, promoting better oxygen exchange in the facial skin. It is a strong antiseptic and protects against infection, itchiness and irritation.

Organic Szechuan Pepper
Szechuan pepper has wound healing properties and protects facial skin from infection. It stimulates skin blood flow, so that facial skin benefits from faster oxygen exchange, which is necessary for a healthy and radiant face.

Organic turmeric
This sacred spice has a cleansing effect on the whole body and is often used to treat all types of skin diseases. Turmeric has wound healing and anti-inflammatory properties and is therefore also extremely valuable and effective for treating skin problems.
The Shangri-la serum
by Amanprana is a natural anti-aging serum.
Anti-aging serum - Shangri-la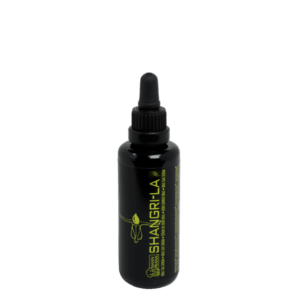 Read more about Anti-aging serum - Shangri-la