Razoli for men by Amanprana ideal as a beard oil.
Take care of your beard like a barber with Razoli as a beard oil.
Facial hairs are very hard and prickly and the skin beneath your beard is often dry, itchy and covered in red spots. It does not feel pleasant, and that is why beard oil is one of the most important products that bearded men can have. When the skin on your face is covered with a beard the rough hairs and their friction make your skin more sensitive than when it is freshly shaved. Razoli is the perfect beard oil, and daily use will mean many benefits for both your skin and your beard.
Using beard oil is good for both your beard and your skin. Beard oil makes the hairs of your beard softer and nourishes your skin and makes it suppler. When you use Razoli your skin will no longer be irritated, become infected, suffer from rashes or be itchy. Your skin will not become irritated as frequently when you nourish it using Razoli as skincare. Beard oil also gives your beard a wonderful scent and a healthy shine.
Why use Amanprana's Razoli as beard oil?
Many people who want to care for their beards use a conditioner or a beard oil that is full of chemical ingredients. These products hurt your skin and the environment. But Razoli is different. Unlike many mineral oils, a plant-based oil will not block your pores. Razoli is a shaving oil that is also perfect as a beard oil, and is 100% natural, 100% organic and 100% active. It is this latter aspect that makes it so good for your facial hair. The valuable and very beneficial plant and ethereal oils ensure your skin is supple and soft, while Razoli also has a protective and restorative effect. Razoli is also effective when you are suffering from skin problems – say goodbye to redness, irritation, rashes and itchiness. A well-cared for beard and skin thanks to Razoli for men. Razoli helps your health.
Razoli contains perfect natural and organic ingredients for a beard oil. For optimal barber-level beard care
The basis of Razoli consist of three different types of oil, all organic:
Olive oil, with its moisture-absorbing properties that ensures your skin retains moisture.
Coconut oil, with its nurturing, protective and softening effect.
Red palm oil, packed with carotenes that benefit your skin, as well as certain types of vitamin E.
These three different base oils are combined with wonderful essential oils, all of them organic and each with its own effect:
Vetiver
Bergamot
Orange
Roman Chamomile
Cedarwood
Sandalwood
Cardamom
Razoli for men is combined perfectly with the ethereal oils, each with their own effect and properties. Manly, powerful and with a sensuous scent. Combats redness, itchiness, rashes, and is nourishing and restorative. Razoli is not just a shaving oil, it can also be used to care for your beard and skin.
How to use Amanprana's Razoli for men as a beard oil, the guide Razoli as a beard oil is like a visit to the barber. Use of Razoli for men by Amanprana as a beard oil, the instructions for use
You can use beard oil daily or a few times a week. It's perfect for caring for both your facial hair and your skin. Caring for your beard hair can easily become a part of your morning routine, such as after a shower. That's because after a shower the skin beneath your beard could be very dry, and Razoli as beard oil is the perfect solution.
Dab your beard dry after showering. Depending on the length and thickness of your beard, use 4 to 6 drops of Razoli and rub it in your hands to warm it up and then spread evenly over your palms and fingers. Rub well into your skin, getting your fingertips as close to your skin as possible and, if desired, shape your beard with a brush or beard comb and further spread the oil over your facial hair.
If you want to give your beard a special treatment, use coconut oil just before going to bed. Coconut oil is great for hair and skin alike, and is the perfect addition to your daily beard oil routine.
Razoli as a beard oil
A beard oil is one of the most important products for a man with a beard.
Razoli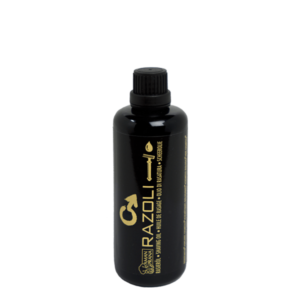 Read more about Razoli