Ingredients for carrot paprika juice
3 - 4 carrots (approx. 200 g)
1 red pepper (approx. 200 g)
1 teaspoon Okinawa Happy Perilla Special
1 teaspoon Amanprana Immuno botanico herb mix
Preparation of carrot paprika juice
Wash the carrots and the pepper, cut into pieces and juice. Add the oil. Stir and drink.
Tip from Chantal:
The immuno herbal mix consists of, among others, sumac (a wonder best from the Middle East) and ashwaganda (also known as Indian ginseng). An extra spoon will do you good.
---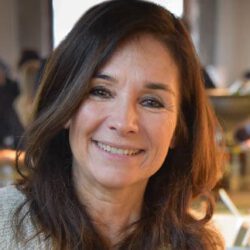 Chantal Voets
Chantal Voets, co-founder of Amanprana, loves cooking and prefers to share her knowledge, all kinds of facts and inspiration to anyone who wants to know.