Chocolate mousse with choco-hazelnut paste from Lily Joan Roberts can be prepared in 0 minutes. You make this dish with Fleur de sel & Choco hazelnut spread from Amanprana. This recipe from the Belgian kitchen is delicious as Desserts & Cake and biscuit. It also fits perfectly in a Vegetarian & Vegan diet.
Ingredients for chocolate mousse
Preparation of chocolate mousse with hazelnut spread
Take 2 eggs and separate the egg whites into a large mixing bowl.

Add the lemon juice and salt to the egg whites. Now beat the egg whites until stiff.

In the meantime, melt the chocolate au bain marie. When the chocolate has melted, let it cool down for a moment.

Now add the (room temperature) chocolate to the beaten egg whites.

Next add the vanilla and melted chocolate.

Mix the egg whites in with the melted chocolate until you have a smooth consistency.

Scoop the mousse into jars and leave to set in the fridge for at least 3 hours. Garnish the chocolate mousse with a mint leaf.
Chocomousse is a dessert that originated in France. Traditionally, chocolate mousse is made with dark chocolate. In order to obtain a less intense chocolate taste, in this recipe it was decided to combine half a cup of dark chocolate with Amanprana's chocolate-hazelnut spread. In addition, only pure ingredients are used.
If you choose to use Aquafaba * instead of egg whites, you will make this chocolate mousse vegan, but this also makes it suitable for pregnant women and young children. Salmonella bacteria can be present in raw eggs.
* Aquafaba is the liquid in cans of chickpeas. If you whisk this liquid, it becomes a thick foam, just like egg white. Not sure what to do with the chickpeas? Check out our recipes with chickpeas!
---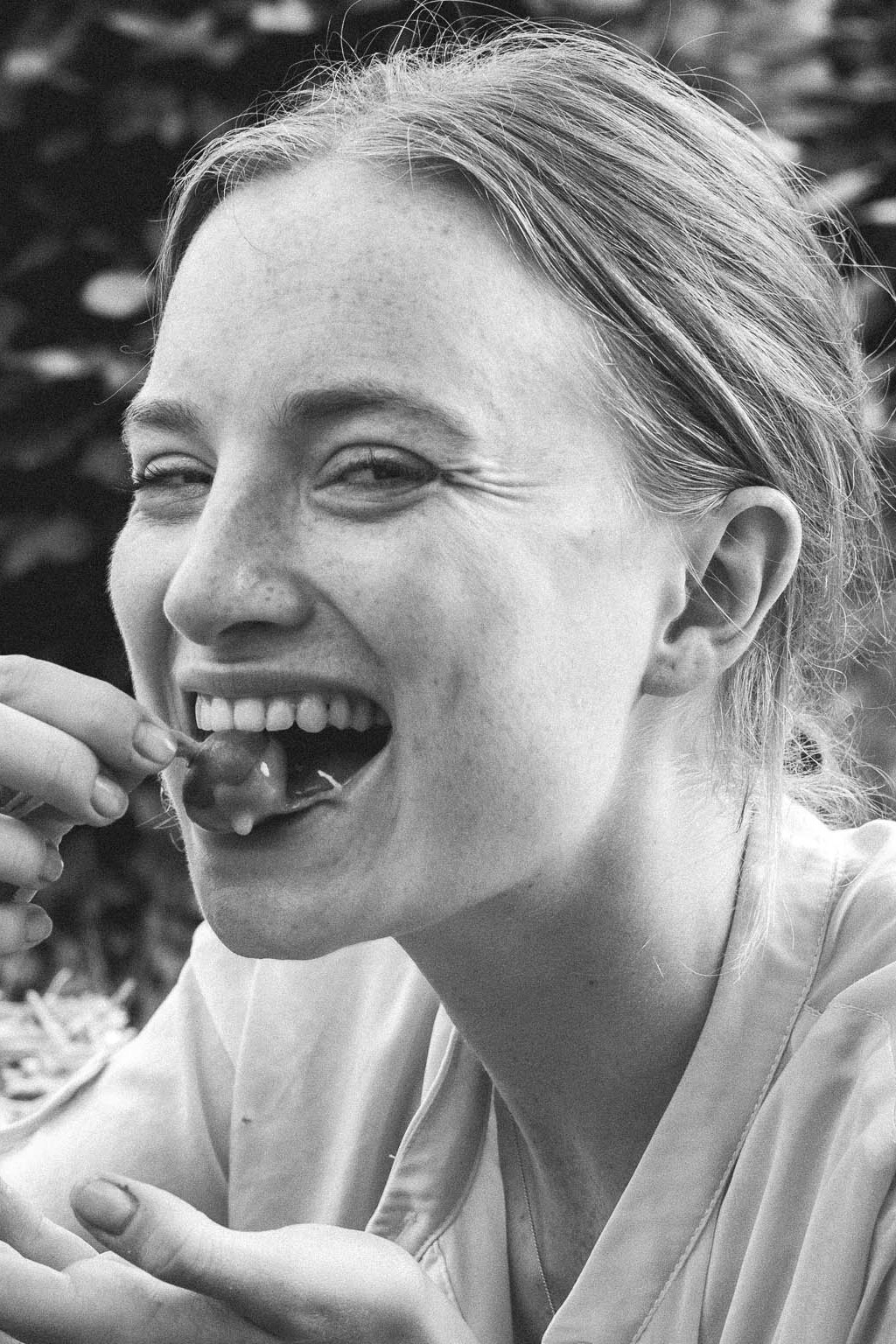 Lily Joan Roberts
Met eten wil Lily mensen dichter bij de natuur brengen. Met andere woorden, om voedsel bewust te onderzoeken als het medium om een verbinding te creëren tussen onszelf, onze omgeving en de mensen om ons heen.De kracht en voordelen van het voedsel dat we eten, fascineert haar: waar het wordt gekweekt, geneest het, hoe het mensen samenbrengt en dichter bij het begrijpen en waarderen van onze omgeving.