Red mayonnaise with a macaroni salad from Chantal Voets can be prepared in 0 minutes. You make this dish with Red wine vinegar & Red palm oil from Amanprana. This recipe from the Asian kitchen is delicious as Tapas & snacks, Side dish, Dip and more & Salsa & Sauce. It also fits perfectly in a Vegetarian diet.
Ingredients for red mayonnaise with a macaroni salad
mayonnaise:
1 egg yolk
a pinch of cayenne pepper
1 coffee spoon of mustard
125 ml of runny Amanprana red palm oil (gently heated)
1 soup spoon of ketchup
salad:
250 g of cooked macaroni
1 large onion sliced
1 green apple
finely sliced
100 g of grated carrots
50 g of chopped walnuts
1/2 cucumber, julienned
a little bit of salad for the mixture
Preparation of red mayonnaise with a macaroni salad
For the mayonnaise:
Put everything in the blender, except the oil.

Mix and then gently add the oil until it emulsifies.

Mix the salad ingredients, add the mayonnaise and serve on a bed of lettuce.
---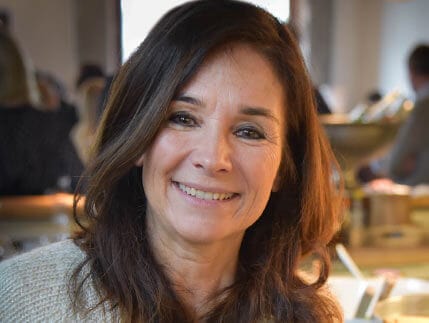 Chantal Voets
Chantal Voets, co-founder of Amanprana, loves cooking and prefers to share her knowledge, all kinds of facts and inspiration to anyone who wants to know.