Lentil soup with coconut and lemongrass from Chantal Voets can be prepared in 40 minutes. You make this dish with Coconut oil & Flamuno botanico-mix from Amanprana. This recipe from the Indonesian kitchen is delicious as Appetizer, Side dish, Lunch & Soup. It also fits perfectly in a Vegetarian, Gluten free & Vegan diet.
Ingredients for lentil soup with coconut and lemongrass
2 soup spoons of fennel seeds
2 soup spoons of coriander seeds
4 soup spoons of coconut oil
2 red onions chopped finely
2 carrots finely grated
2 lemon leaves
2 cm of galanga root
2 lemongrass stalks chopped
4 cloves of garlic, finely chopped
2 dried peppers
crushed, 4 cm freshly grated ginger
40 cl coconut milk, 10 cl of red lentils
2 soup spoons of soy sauce
the juice of 1 lime,
150 cl water
fresh coriander or flat-leaf parsley
sea salt enriched with seaweed
Preparation of lentil soup with coconut and lemongrass
Put the fennel and coriander seeds in a pan and grill them until their aroma is released. Cool down and crush in a mortar and pestle.Fry the onions, carrots, garlic, lemon leaves, ginger, galanga root, lemongrass and peppers in coconut oil for 5 minutes. Add the coconut milk; the herbs and the water. Bring to a boil and add the lentils.Let the soup boil until the lentils are done. Season to taste with soy sauce, lime juice, sea salt enriched with seaweed and fresh coriander (cilantro).Give your rating for this recipe. Click 1 of the 5 stars. | 1bad: bad 2moderate: moderate 3well: well 4very good: ver
Tip from Chantal:
The Flamuno botanico herb mix consists of very powerful herbs. The mix is from organic herbs known from Asian medicine.
---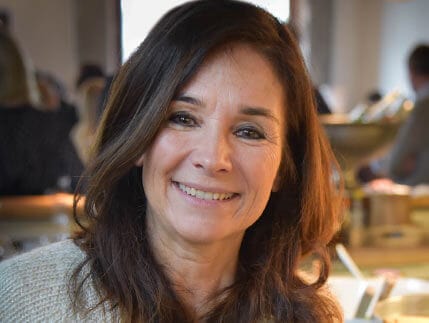 Chantal Voets
Chantal Voets, co-founder of Amanprana, loves cooking and prefers to share her knowledge, all kinds of facts and inspiration to anyone who wants to know.