Radish with a cashew nut spread and seaweed from Chantal Voets can be prepared in 5 minutes. You make this dish with 4-Algae botanico-mix from Amanprana. This recipe from the Asian kitchen is delicious as Tapas & snacks & Salsa & Sauce. It also fits perfectly in a Raw food, Vegetarian, Gluten free, Vegan & Lactose-free diet.
Ingredients for radish with a cashew nut spread and seaweed
1 daikon (also known as 'rettich' or 'white radish')
1 handful of cashews
1 tablespoon Amanprana 4-Algae Botanico-mix
1 bunch of mint
1 bunch of flat-leaf parsley
1 bunch of fresh coriander
2 tablespoons miso
Sundried tomatoes
Preparation of radish with a cashew nut spread and seaweed
Put the cashews in a tall measuring cup.

Add a handful of chopped fresh mint, flat-leaf parsley and fresh coriander, 2 tablespoons of miso and some dried tomatoes.

Mix with a hand blender and season with the 4-Algae Botanico-mix.
Cut the daikon into thin slices. Spread the cashew spread over the slices. Fold the slice to close.
---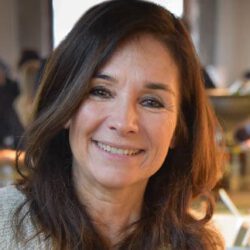 Chantal Voets
Chantal Voets, co-founder of Amanprana, loves cooking and prefers to share her knowledge, all kinds of facts and inspiration to anyone who wants to know.