Ingredients for wholemeal pancakes with coconut oil and coconut blossom sugar
250 g wholemeal flour
extra virgin coconut oil, Amanprana
2 eggs (optional)
Pinch of unrefined sea salt
½ l oat milk
coconut blossom sugar, Amanprana
Preparation of wholemeal pancakes with coconut oil and coconut blossom sugar
Make sure your pancake batter is light and fluffy
Make a batter by mixing the flour, eggs and the salt with the milk until a smooth substance is formed. The eggs are used to aerate the batter but you do not have to use them. Melt a knob of coconut oil in the frying pan, move the pan so that the oil covers the bottom of the pan entirely. Use a ladle to pour the batter into the pan. Take the pan off the heat and move it around so that the batter is distributed evenly on the bottom. Cook the pancake on low heat until the base browns slightly.Turn it using a pancake knife once the top has solidified and cook until this side is also slightly browned.
Tip from Chantal:
Delicious with coconut blossom sugar!
---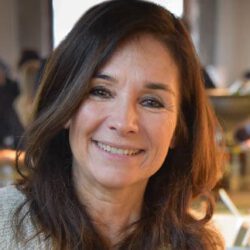 Chantal Voets
Chantal Voets, co-founder of Amanprana, loves cooking and prefers to share her knowledge, all kinds of facts and inspiration to anyone who wants to know.