Hot ginger tea for cold winter evenings from Chantal Voets can be prepared in 15 minutes. You make this dish with Matcha from Amanprana. This recipe from the kitchen is delicious as Drinks, Snack, High tea & Drink. It also fits perfectly in a Vegan & Lactose-free diet.
Ingredients for hot ginger tea for cold winter evenings
1 L water
1.5 teasp green tea
3 slices fresh ginger
2 cinnamon sticks
1 star anise
1 clove
1 cardamon seed
1 tbsp maple syrup C
Preparation of hot ginger tea for cold winter evenings
Heat the water until it nearly boils and add all ingredients except the maple or apple syrup.

Maintain this mixture just below the boiling point for 15 min. and strain it.

Sweeten the tea according to taste. Serve hot.
Tip from Chantal:
GINGER Ginger is one of the most valuable spices in Chinese medicine, among others. Few people know that it can help prevent or cure diseases. In Asia ginger is used in dishes on a daily basis. The ginger root is peeled and then grated. You can also buy pickled or marinated ginger flakes.
it is an effective remedy for travel sickness
even people with a stomach ulcer can use ginger
it enhances digestion
it can help in case of morning sickness
it warms you up
ideal for colds: a cup of ginger tea with lemon
Herbs and spices
Herbs are not only flavour enhancers. For instance, herbs contain 10 times more minerals than fruit, vegetables and cereals. Especially wild herbs growing in full ground. Herbs also contain micronutrients which do not appear (or less) in other food. Therefore it is important to try and use herbs as much and as variedly as possible. Cinnamon, star anise, clove and cardamon provide vitality (chi) in the Indian ayurveda.
---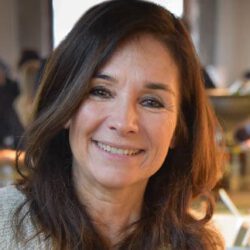 Chantal Voets
Chantal Voets, co-founder of Amanprana, loves cooking and prefers to share her knowledge, all kinds of facts and inspiration to anyone who wants to know.