Ingredients for gluten-free pudding with almond milk, banana, chocolate and chia seed
200 mL Almond milk
2 tbsp Chia seeds
1 Bananas
2 tbsp Cocoa powder (Amanprana Gula Java Cacao)
Preparation of gluten-free pudding with almond milk, banana, chocolate and chia seed
Peel the banana and place in a blender with the almond milk and cocoa powder. Purée for about three minutes. Add the chia seeds and stir well. The next morning, give it another big stir, and serve with fresh fruit or a little extra coconut blossom sugar. Enjoy!
Tip from Stefano:
The Amanprana adapto botanico herb mix is well-balanced in stress situations.
---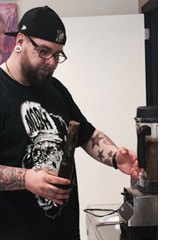 Stefano Vicinoadio
Who is Stefano Vicinoadio? Here at Amanprana we got to know him at an organic fair in Germany. We immediately hit it off and it turned into a great working relationship. Stefano is actually a photographer, and it is his passion. But his love for cooking has resulted in the most delicious recipes... together with great photos. Stefano describes himself as colourful, loud, a vegan, a friend, a discoverer, a digital nomad and straightforward.