Indian pumpkin stew from Chantal Voets can be prepared in 30 minutes. You make this dish with Coconut flour & Red palm oil from Amanprana. This recipe from the Indian kitchen is delicious as Main dishes, Side dish & Stew. It also fits perfectly in a Vegetarian, Gluten free, Vegan & Lactose-free diet.
Ingredients for indian pumpkin stew
a small pumpkin (600 g.)
300 g parsnip
2 cups basmati rice
1 onion
a red pepper
Aman Prana extra virgin red palm oil
100 g dried apricots
2 cloves garlic
100 g cashew nuts
2 teaspoons vegetable stock
1 teaspoon dried coriander, cumin, curry and cinnamon
½ teaspoon cayenne pepper
a can of coconut milk (400 g)
150 ml water
a bundle of fresh coriander
lemon juice
coconut flour (Amanprana)
Preparation of indian pumpkin stew
Cook the basmati rice according to the instructions on the packaging.Chop the onion, garlic and ginger very finely and fry them in the red palm oil (3 minutes). Add the diced pumpkin, red pepper and parsnip and stir-fry everything for a few minutes.Sprinkle with coriander, cumin, cayenne pepper, curry and cinnamon and stir-fry for a minute.Add the coconut milk, the water and the stock powder and bring to the boil. Let the mixture cook for 15 min. on medium heat. Near the end of the cooking time gradually add the coconut flour until obtaining the desired consistency.Flavour with a little lemon juice. Take away from the heat and sprinkle with the fresh coriander.
---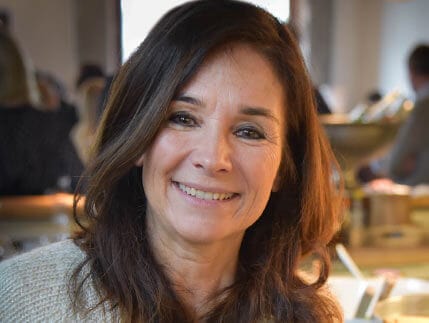 Chantal Voets
Chantal Voets, co-founder of Amanprana, loves cooking and prefers to share her knowledge, all kinds of facts and inspiration to anyone who wants to know.