Pomeegranate drink from Chantal Voets can be prepared in 0 minutes. You make this dish with Coconut flour from Amanprana. This recipe from the kitchen is delicious as Drinks, Lunch, Brunch, High tea & Drink. It also fits perfectly in a Raw food, Vegetarian, Gluten free & Vegan diet.
Ingredients for pomeegranate drink
2 large ripe mangoes
200 g blackcurrants
4 pomegranates
yoghurt (soy)
2 tbsp coconut flour Amanprana
Preparation of pomeegranate drink
Cut the pomegranates in half or into quarters and carefully remove the pearls from the membrane. Rub the pearls through a sieve and collect the juice in a bowl. Peel the ripe mangoes, remove the stones, cut them into pieces and puree the mango flesh. Add the mango puree to the pomegranate juice and mix in the blackcurrants. (also possible with cherries) Put this mixture in the freezer for approx. half an hour until it has turned into a sort of jelly.Mix the coconut flour with the yoghurt and fill 4 nice glasses with a layer of yoghurt and pomegranate mixture. If you want you can sprinkle on some wheat germs (a lot of vit. B).
Tip from Chantal:
pomegranates are a source of potassium and vitamin C, but especially of polyphenols. Scientific research shows that they contain 3 to 4 times more polyphenols than red wine, grape juice or green tea.
---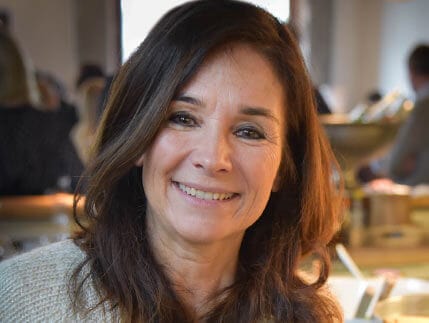 Chantal Voets
Chantal Voets, co-founder of Amanprana, loves cooking and prefers to share her knowledge, all kinds of facts and inspiration to anyone who wants to know.