Red Chickpea pesto from Chantal Voets can be prepared in 30 minutes. You make this dish with Eicosan Perilla, Happy Perilla Special, Balance Delight, Omega oil & Happy Delight from Amanprana. This recipe from the Italian kitchen is delicious as Side dish, Lunch, Tapas & snacks, Dip and more & Salsa & Sauce. It also fits perfectly in a Raw food, Vegetarian, Vegan, Low carbohydrate & Lactose-free diet.
Ingredients for red chickpea pesto
350 g chickpeas cooked (in jar)

150 to 200 g grilled red peppers or sundried tomatoes in oil

1 teaspoon Okinawa Omega 3/6/7/9 Amanprana (Happy, or Indian, or Eicosan,...)

a pinch of cayenne pepper
Preparation of red chickpea pesto
Mix all ingredients, mash everything with a hand blender and there you have something really healthy!
Tip from Chantal:
Delicious with foccacia bread or a piece of toasted wholemeal bread.
---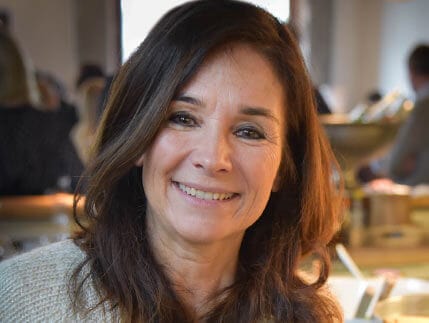 Chantal Voets
Chantal Voets, co-founder of Amanprana, loves cooking and prefers to share her knowledge, all kinds of facts and inspiration to anyone who wants to know.