Blinis with pumpkin curry and algae from Chantal Voets can be prepared in 10 minutes. You make this dish with 4-Algae botanico-mix & Olive oil - Amanprana Premium from Amanprana. This recipe from the Belgian, Dutch & French kitchen is delicious as Lunch, Tapas & snacks, Appetizer & Dip and more. It also fits perfectly in a Vegetarian, Gluten free & Low carbohydrate diet.
Ingredients for blinis with pumpkin curry and algae
Preparation of blinis with pumpkin curry and algae
Make the pancake mix according to the instructions on the packaging.

Remove the seeds from the pumpkin and cut it into small blocks of about 2 cm.

Stew them in a large pot (with a lid on top) with 2 tbsp water and the red curry paste until the pumpkin pieces are cooked.

Don't forget to stir every now and then.

The amount of curry paste depends on the size of the pumpkin and its own flavour.

Now finely mash the pumpkin with a fork and let it cool down a little.

Meanwhile, heat the olive oil in a small pan (depending on how big the blinis will need to be). If you prefer small blinis, you can put one or more pastry cutters in the pan for the size you want.

Fry the Blinis, which should not be too thin, nice and brown on both sides. If you are working with pastry cutters, make sure to wait long enough before removing them; the dough must be dry. Be careful, these things get hot. Once the pastry cutter is removed, you can neatly turn the blini over and let it brown on the other side.

First spread some white cheese on the warm blini, then the pumpkin mash and garnish generously with the Botanico 4 algae.
---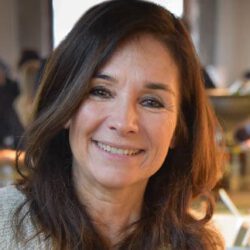 Chantal Voets
Chantal Voets, co-founder of Amanprana, loves cooking and prefers to share her knowledge, all kinds of facts and inspiration to anyone who wants to know.