Ingredients for rye gingerbread with coconut fibres
1 full tbsp extra virgin coconut oil (Amanprana)
200 gram apricots
250 gram wholemeal rye flour
2 tsp baking soda (only add just before placing in oven)
4-5 tsp mixed spice
1 tsp cinnamon
1 tsp ground cardamom
1 egg
6 tbsp sunflower seeds
people with inefficient intestines could add 1 full tbsp of inulin powder or coconut flour (amanprana)
4-5 tsp Gula Java Fin (Amanprana)
200 ml water (to heat up the apricots)
pinch of unrefined sea salt
dash of lemon juice
Preparation of rye gingerbread with coconut fibres
Steep the apricots in water and warm over low heat. Remove the pan from the heat and mix the coconut oil through the apricots and then puree the mixture with a hand blender. Mix the other ingredients with a hand blender. Then mix in the apricot puree. Taste to ensure it is sufficiently spicy and/or sweet and add spices or Gula Java if necessary. Place mixture into a cake tin and bake in the oven for about 50 minutes at 150 degrees.
Tip from Rineke:
Rye and rye bread are great sources of fibre: they contain about 3 grams of fibre per 50 grams. To maintain good health (certainly in the intestines) we require 30-40 grams of fibre per day. Subtropical fruit such as apricots contain around 5-7 grams per 50 grams. This gingerbread provides your daily requirement of fibre, particularly if you also add one teaspoon of coconut flour (Amanprana)! A real boost for your peristaltic movement and healthy intestinal bacteria. Recipe from the cookbook "Weten van (h)eerlijk eten" (Knowing how to eat well) by R.Dijkinga, orthomolecular therapist and naturopath.
---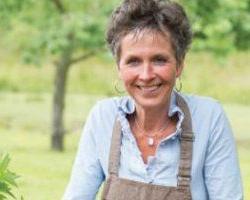 Rineke Dijkinga
Rineke Dijkinga is specialist in orthomolecular medicine and naturotherapy and also knows an extraordinary amount about nutrition. She is firmly convinced of the beneficial effects of (organic) foods and believes that herbs and spices play a major role in our energy levels, our mood and our weight. To her, delicious food are one and the same thing. Here at Amanprana we have had the opportunity to create and collect various recipes together with Rineke Dijkinga, author of "Alles draait om je hormone" (It's All About Your Hormones), "Weten van (h)eerlijk eten 1 & 2" (What You Need to Know About Fair Food) and Weetjes over (h)eerlijk eten (Fair Food, the Facts). Her main aims are to highlight how important herbs and spices are, that we should opt for organic food and that we should focus on the preventative in prevention.