Vegetarian Wraps with Oyster Mushrooms and Black Garlic Paste from Chantal Voets can be prepared in 5 minutes. You make this dish with Black garlic paste, Coconut oil, Fleur de sel, Coconut blossom sugar & Black garlic from Amanprana. This recipe from the Mexican, Belgian, Dutch & French kitchen is delicious as Side dish, Lunch, Tapas & snacks, Vegetable Dish & Salad. It also fits perfectly in a Vegetarian & Vegan diet.
Ingredients for vegetarian wraps with oyster mushrooms and black garlic paste
200 g oyster mushrooms
2 onions
125 g cherry tomatoes
½ cucumber
½ lime
1 tsp black garlic paste
1 tsp cumin powder
10 g fresh coriander
4 tortillas
½ cup of light sour cream (or vegan coconut cream)
2 tbsp extra virgin coconut oil
1 tbsp Gula Java coconut blossom sugar
Khoisan fleur de sel
Pepper
Preparation of vegetarian wraps with oyster mushrooms and black garlic paste
Cut the oyster mushrooms into bite-sized pieces. Cut the onions into half rings. Cut the cherry tomatoes and cucumber into fine cubes.

Create a salsa by mixing the cherry tomatoes, cucumber, lime juice and the coriander leaves. Set some coriander aside for the finishing touch. Season with pepper and fleur de sel.

Heat half of the coconut oil and add the onions. Leave to simmer over low heat until the onions begin to colour slightly. Add the sugar and let it caramelise. Spoon the onions out of the pan and add the rest of the coconut oil. Add the oyster mushrooms and fry until done. Season with cumin, pepper and fleur de sel. Add the onions again so that they can heat up.

Heat the tortillas in a dry pan or in the oven. Spoon the oyster mushrooms and onions on top, together with the salsa. For the finishing touch, add a spoonful of sour cream mixed with black garlic paste and coriander leaves.
---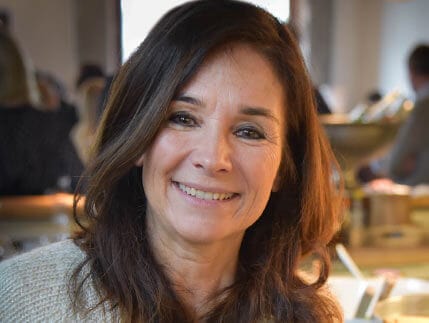 Chantal Voets
Chantal Voets, co-founder of Amanprana, loves cooking and prefers to share her knowledge, all kinds of facts and inspiration to anyone who wants to know.