5x creative with extra virgin coconut oil in the kitchen
Looking for a way to creatively use extra virgin coconut oil in the kitchen?  The most popular way, baking in it, you have surely already tried. But did you know that extra virgin coconut oil cannot only be used to replace olive oil or butter. It is an extremely versatile fat that can come in handy in just about any situation. Discover in advance five creative ways and recipes to use extra virgin coconut oil in the kitchen.
1. Make a Keto Burger 
Keto diets are all the rage right now. Whether you are trying to slim down or get the right balance of nutrients, the keto diet has a variety of benefits that appeal to many people. 
Eating Keto does not have to be difficult or tasteless. With a few simple adjustments, you can make your regular diet keto compliant. It's all about adding healthy fats to your diet and removing refined sugars and carbohydrates. Sounds simple enough, right?  
When you start with ketogenic eating, it might feel a bit daunting because so many things are no longer allowed. For example, traditional burgers are a no go in the keto diet. But with this delicious and super easy 'keto seitan avocado burger' recipe, you can still enjoy burgers and meet your keto goals. Check out the recipe for our keto seitan avocado burgers here.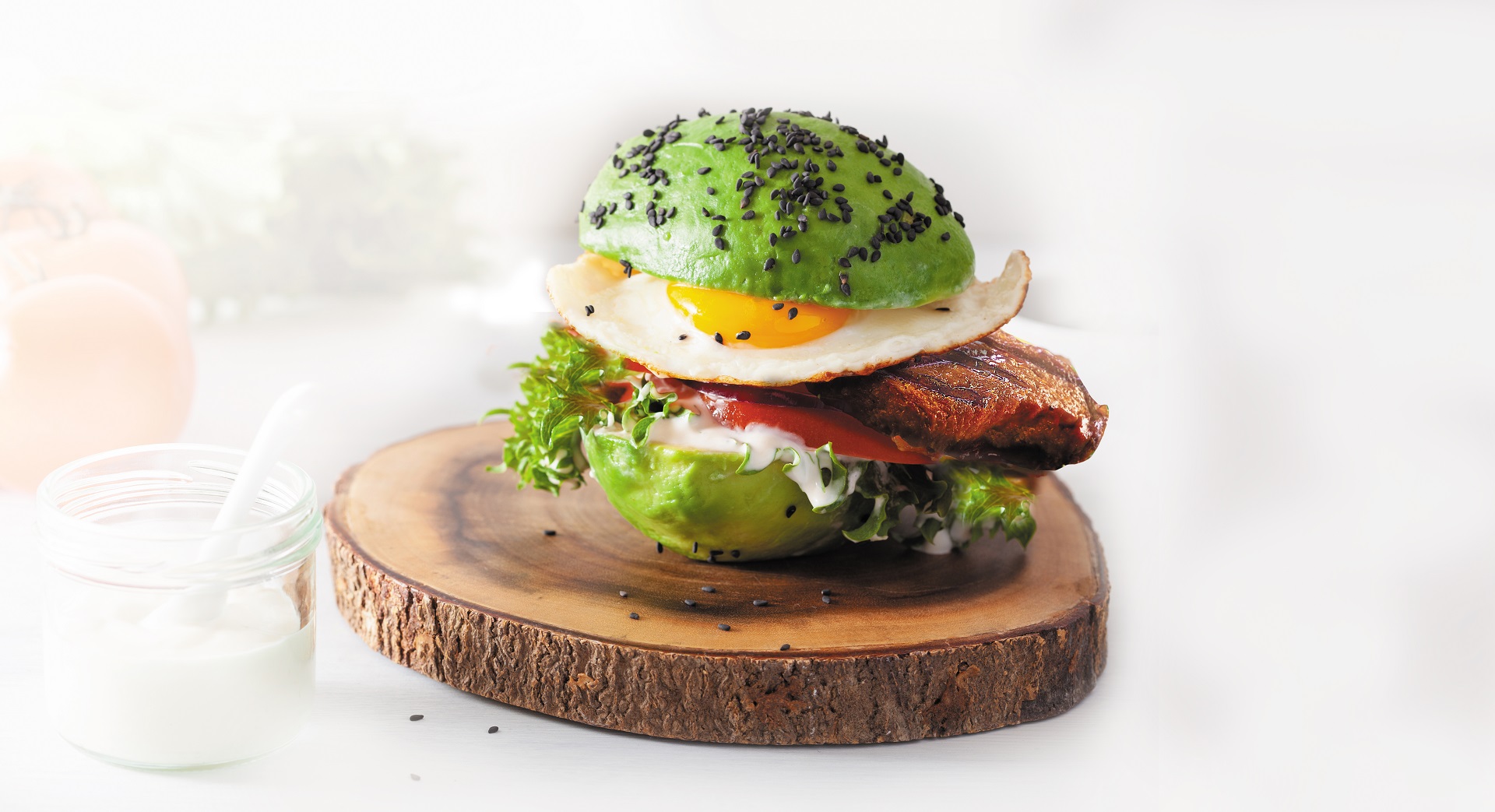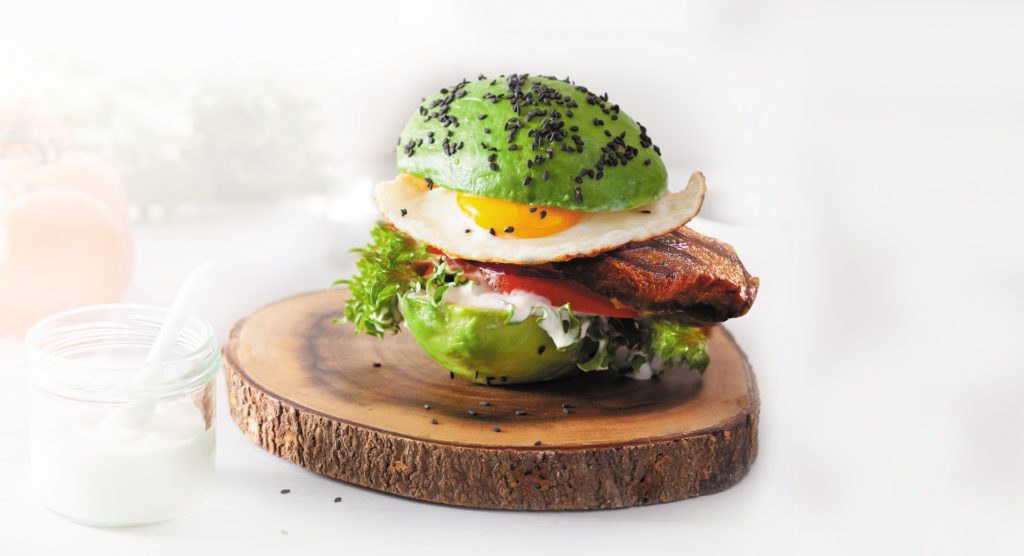 2. Use extra virgin coconut oil as a spread on your sandwich 
Extra virgin coconut oil has many benefits and is very versatile. If you are a sandwich lover, try using coconut oil as a spread instead of butter. Make sure you choose organic extra virgin coconut oil so you get all the natural nutrients coconut oil has to offer. It is an easy way to increase the nutritional value of your diet and it is simply delicious. 
During the colder months, the oil is more solid, like butter. During the summer months, coconut oil is more likely to be liquid. You can then use coconut oil to make your own almond, cashew or peanut butter. Check out our recipe for peanut coconut butter here.
Want to really show off your baking skills? Then try this recipe for a multigrain bread with extra virgin coconut oil!
3. Make waffles that won't give you a sugar crash 
We've all experienced it: you see a delicious pastry. You eat one (or maybe two or three) and a few hours later you feel tired and cranky. You have a 'sugar crash'. It doesn't have to be that way! You can make delicious pastries with coconut blossom sugar (which has a low glycaemic index, especially compared to refined sugars) and extra virgin coconut oil.  
Chantal Voets, co-founder of Amanprana, has her own personal waffle recipe that she whips up for every special occasion. Check out her recipe for sweet potato waffles with mango and turmeric latte here.
Not a fan of waffles? How about gluten-free pancakes with coconut oil?


4. Remove fingerprints from your stainless steel appliances 
You've tried every possible way to incorporate coconut oil into your recipes, bakes and more. But did you know that you can also use extra virgin coconut oil to clean your stainless steel appliances?  
Those stainless steel fridges, dishwashers, ovens and other small appliances looked great when you installed your kitchen. But now they are all magnets for sticky fingerprints and stains. Instead of using harsh chemicals, which are definitely not the best ingredients to have in your kitchen, wipe these surfaces with a small amount of extra virgin coconut oil. Afterwards, remove the excess oil with a dry microfibre cloth.  
Why does this work? It's basic science: the same thing attracts the same thing. The coconut oil sticks to all the oil and dirt on these appliances, so you can easily clean them.  
Read more about how to use extra virgin coconut oil to clean with here.
5. Use extra virgin coconut oil as first aid 
Coconut oil is a popular beauty product and for good reason too. Among other things, it is a miracle cure for your hair. Coconut oil, especially extra virgin organic coconut oil, contains antimicrobial compounds that can help fight bacteria. Being intensely moisturising, coconut oil also has a soothing and softening effect. Next time you cut yourself, clean the wound as you normally would. Smear a little extra virgin coconut oil on it and put a plaster on it. Before you know it, you will be completely healed again.
As you can see, extra virgin coconut oil has an almost limitless list of uses. You can use it in the kitchen for baking, cooking, frying and so on. But you can also use it in the bathroom, for cleaning and as a first aid.  
When in doubt, use coconut oil! 
Are you going to use coconut oil for different things? Then it's handy to keep the oil in separate jars. Put one jar in the kitchen and use it only for cooking purposes. In fact, from the jar in your bathroom, you will regularly scoop out some oil with your fingertips. With a separate jar of coconut oil for cooking, you will ensure that no bacteria will get into your cooking oil and all your meals will taste great!
Coconut oil in the kitchen
Amanprana coconut oil
Read more about Amanprana coconut oil
---
Fair Trade Coconut oil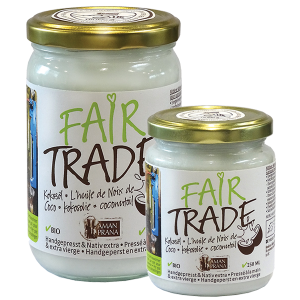 Read more about Fair Trade Coconut oil