Ingredients for cauliflower and bulgur sushi with spicy tofu and avocado-wasabi dip
1 small cauliflower
80 g bulgur
100 g tofu
1 teaspoon of chilli flakes (Bio)
1 avocado
1 teaspoon of wasabi
Juice of one lemon
3 dessertspoons olive oil Hermanos Catalan
1 pinch of cumin
1 pinch of garlic powder
1 dessertspoon Genmai su
4 to 6 sheets of nori
Preparation of cauliflower and bulgur sushi with spicy tofu and avocado-wasabi dip
Carefully cut out the heart of the cauliflower and put in ice-cold water. Chop the rest of the cauliflower in a food processor until you have grains the same size as bulgur. Cook the bulgur according to the instructions on the pack, add approximately half the cauliflower and ½ cup of extra water. Cook until all the water has evaporated, mix in the Genmai su and season with sea salt and pepper. Spread out on a large platter and leave to cool. Cut the tofu into long strips and season with sea salt and chilli flakes. Spread the cauliflower/bulgur mixture onto the sheets of nori, approx 2 cm from the edges. Roll the sheets up firmly using a bamboo mat or a kitchen towel. Glue the edges with a bit of water and put the rolls in the fridge wrapped in a damp tea towel. Scoop out the avocado flesh, add the wasabi, lemon juice, cumin and garlic powder and mix thoroughly, gradually stirring in the olive oil. Cut the heart of the cauliflower into thin slices using a vegetable peeler. Cut the sushi rolls into small portions. Arrange the avocado sauce onto the plates, place the sushi rolls alongside and finish with the thin slices of cauliflower heart.
---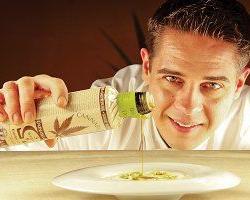 Philippe Van den Bulck
Philippe van den Bulck is a truly creative chef specialising in vegetables. He is inspired by inspiring others with his rich cuisine. He does not use meat, just a lot of vegetables, and he is also a food stylist and writer, and has worked in many famous restaurants. Growing up in the Mechelen region, Philippe was surrounded by hundreds of gardeners around the fresh produce market of Mechelen (the famous Mechelse Veilingen). His love for vegetables started there, and it would become his passion many years later. During that time he worked at El Bulli and Le Cirque in New York, and he is also a culinary advisor to EVA (Ethical Vegetarian Alternative).