Fast Mac and Cheese from Chantal Voets can be prepared in 30 minutes. You make this dish with Coconut oil from Amanprana. This recipe from the American kitchen is delicious as Main dish & Pasta. It also fits perfectly in a Vegetarian & Vegan diet.
Ingredients for fast mac and cheese
30 grams of butter or coconut oil
3 garlic cloves
2 tbsp flour
1 pack of vegetarian minced meat (250 grams)
fresh oregano
300 grams macaroni cooked al dente
1 small tbsp Dijon mustard
50 grams fine parmesan cheese
150 grams fine Gruyere
1 ball of mozzarella
Quick preparation of Mac & Cheese
Heat the butter or coconut oil in a frying pan over medium heat

Put the garlic in this – fry for a while

Sprinkle the flour over it and stir for 1 minute

Stir in finely chopped oregano, macaroni, mustard, cheeses, and half of the mozzarella oat milk, salt and pepper

Add the fried minced meat

Bring to boil

Spoon into 4 separate oven dishes or 1 large dish and top with the rest of the mozzarella

Bake for 10 minutes in the oven
Tip from Chantal:
For vegetable fans – also very nice to mix with stewed leek or cauliflower.
---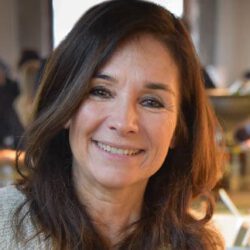 Chantal Voets
Chantal Voets, co-founder of Amanprana, loves cooking and prefers to share her knowledge, all kinds of facts and inspiration to anyone who wants to know.