Creole salad from Chantal Voets can be prepared in 10 minutes. You make this dish with Olive oil - Hermanos Catalan from Amanprana. This recipe from the Italian kitchen is delicious as Main dishes, Side dish, Lunch & Salad. It also fits perfectly in a Vegetarian, Gluten free, Vegan & Lactose-free diet.
Ingredients for creole salad
Salad:
450 g fresh young spinach, washed and dried
25 g spring onions, finely chopped
12 small or cherry tomatoes, halved
Creole vinaigrette:
For 225 ml
60 ml red wine vinegar
1 tbsp course mustard
1 clove garlic, crushed
a pinch of cayenne pepper
175 ml Hermanos Catalan extra virgin olive oil
15 g paprika
Spicy pecans:
75 g peeled pecans
2 tbsp Hermanos Catalan extra virgin olive oil
50 g sunflower seeds and 50 g pumpkin seeds
2 tbsp tamari or soy sauce
15 g paprika
1 teaspoon cayenne pepper
Preparation of creole salad
Mix the spinach, the spring onions and the tomatoes in a salad bowl.Mix all ingredients for the creole vinaigrette, except the oil, in a small bowl. Gradually stir in the oil until the mixture starts thickening.Mix all ingredients for the pecans on a baking tray and grill them for 10 minutes on 160°C. Let the nuts cool off.Mix the vinaigrette with the salad and sprinkle with the spicy pecans.
---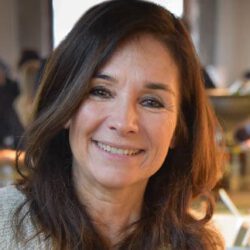 Chantal Voets
Chantal Voets, co-founder of Amanprana, loves cooking and prefers to share her knowledge, all kinds of facts and inspiration to anyone who wants to know.