Crispy Cauliflower Florets with Panko and Black Garlic Mayo from Chantal Voets can be prepared in 0 minutes. You make this dish with Fleur de sel, Olive Oil - Verde Salud & Black garlic from Amanprana. This recipe from the Belgian & Spanish kitchen is delicious as Tapas & snacks, Side dish, Dip and more & Salsa & Sauce. It also fits perfectly in a Vegetarian, Low carbohydrate & Lactose-free diet.
Ingredients for crispy cauliflower florets with panko and black garlic mayo
400 g cauliflower florets
2 eggs, beaten
60 g wholemeal flour
200 g panko (Japanese breadcrumbs that are lighter and sweeter – tempura)
Extra virgin olive oil, Verde Salud
Khoisan fleur de sel
2 spring onions, in rings
Handful of fresh coriander, finely chopped
1 lime
Spicy black garlic sauce (see the recipe for Black Garlic Mayo)
Preparation of crispy cauliflower florets with panko and black garlic mayo
Preheat the oven to 180 °C.

Take out three plates: one for the flour, one for the beaten eggs and the third for the panko.

While still slightly damp from washing, roll the cauliflower florets successively through the flour, eggs and panko.

Place them on a baking tray lined with baking paper and drizzle some olive oil over them.

Put them in the hot oven for 10 to 15 minutes.

Then flip them over and let it bake for another 10 minutes or so.

Keep a close eye on your oven as they will change colour quickly.

When the cauliflower turns golden brown, it is ready to go.

Sprinkle the cauliflower florets with fleur de sel. Put the cauliflower florets in a nice bowl. Sprinkle them with the spring onion and coriander. Finish with a pinch of lime juice.

Serve with a bowl of garlic mayo as a dip. Eat it straight away, while the cauliflower is still nice and hot.
Tip from Chantal:
This crispy cauliflower with black garlic mayonnaise is super tasty. That is all thanks to the crispy coating of panko (Japanese breadcrumbs), fresh coriander and spring onion, not to mention the black garlic mayo. Tip: you can spice up your dip with red pepper.
---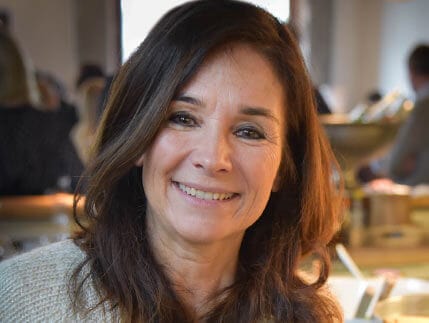 Chantal Voets
Chantal Voets, co-founder of Amanprana, loves cooking and prefers to share her knowledge, all kinds of facts and inspiration to anyone who wants to know.