Organic waffles with a hint of coconut and cinnamon from Chantal Voets can be prepared in 0 minutes. You make this dish with Coconut oil, Fleur de sel & Coconut flour from Amanprana. This recipe from the Belgian kitchen is delicious as Desserts, Snack, Breakfast, Brunch, High tea & Cake and biscuit. It also fits perfectly in a diet.
Ingredients for organic waffles with a hint of coconut and cinnamon
400 g organic flour
80 g organic coconut fibres
4 organic eggs
750 ml organic (soy) milk (up to 1 l) or oat drink
150 ml Amanprana extra virgin coconut oil (liquid)
50 ml organic agave syrup
a pinch of cinnamon or vanilla
Preparation of organic waffles with a hint of coconut and cinnamon
Take a big bowl in which you mix all ingredients, except the milk. Mix everything well using a whisk; then gradually add the milk. You can make the batter smoother or more liquid according to taste. Take a waffle iron and grease it with coconut oil. Wait until it is very hot; then put in one (or two) ladles of batter and wait until the waffles turn golden brown
Tip from Chantal:
For a real feast sprinkle a bit of coconut oil on top.
---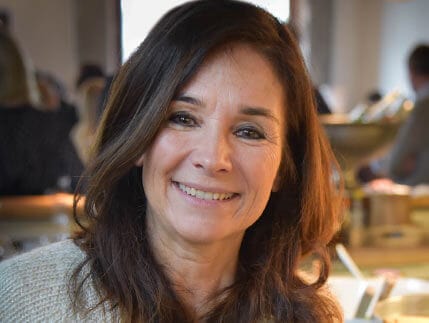 Chantal Voets
Chantal Voets, co-founder of Amanprana, loves cooking and prefers to share her knowledge, all kinds of facts and inspiration to anyone who wants to know.