Ingredients for moroccan wraps with couscous and ras el hanout spices
500g Durum wheat couscous
2 Multicoloured peppers
1 Flat-leaf parsley
2 Cloves of garlic
400g Chickpeas stored in a glass jar
1 small glass Tahini (ground sesame seeds)
1heaped tablespoon Ras el hanout (couscous spice mix)
300ml Verde Salud extra virgin organic olive oil
2 tablespoons Amanprana extra virgin walnut oil
1 pinch Khoisan fleur de sel
16 Wheat or corn wraps
One tablespoon ORAC Botanico-mix, spicy Herbs
Preparation of moroccan wraps with couscous and ras el hanout spices
Puree the chickpeas with the tahini, 100 ml olive oil, half the water from the chickpea jar and the garlic into a smooth paste using a hand blender. Combine the hummus spices with freshly-milled salt and the spice mix as well as fresh parsley and cumin, according to taste. Let cool. Wash the vegetables, chop up roughly and fry in 100 ml of olive oil. Put aside.
Preparing the couscous with ras el hanout
Put the couscous in a large bowl and pour over 700-750 ml boiling water. Let the mixture draw for 10 minutes and then add the remainder of the olive oil and ras el hanout and mix with a whisk. Season with the spice mix, fleur de sel, roughly chopped parsley and the cooked vegetables.
Filling the wraps
Spread the hummus over the wraps, then add a layer of couscous and, if desired, some walnut oil. Roll up, halve and serve.
---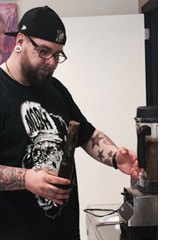 Stefano Vicinoadio
Who is Stefano Vicinoadio? Here at Amanprana we got to know him at an organic fair in Germany. We immediately hit it off and it turned into a great working relationship. Stefano is actually a photographer, and it is his passion. But his love for cooking has resulted in the most delicious recipes... together with great photos. Stefano describes himself as colourful, loud, a vegan, a friend, a discoverer, a digital nomad and straightforward.