Vegetarian snack from Chantal Voets can be prepared in 15 minutes. You make this dish with Fleur de sel, Coconut blossom sugar, Balance Delight, Apple cider vinegar & Olive Oil - Verde Salud from Amanprana. This recipe from the Mediterranean & African kitchen is delicious as Side dish, Tapas & snacks & Dip and more. It also fits perfectly in a Vegetarian, Gluten free & Low carbohydrate diet.
Ingredients for a vegetarian snack à la Ottolenghi
350 grams cherry tomatoes
3 tbsp extra virgin olive oil Verde Salud
1/2 tsp cumin seed
1 tsp coconut blossom sugar
1/2 tsp dried oregano
2 cloves of garlic (pressed or chopped)
3 sprigs of thyme
zest of 1 lime
250 grams of Greek yogurt
1 tbsp Apple cider vinegar
Balance Delight (Omega 3)
Khoisan fleur de sel
How to make a vegetarian snack with tomatoes from the oven
Preheat the oven to 200 ºC.

Mix the oil, cumin, garlic, coconut blossom sugar, oregano and lemon zest together and pour this into the oven dish over the tomatoes.

Season with salt and pepper and lay the sprigs of thyme in between.

Bake in the oven for 20 minutes and carry on with the yoghurt in the meantime.

Mix 1 tbsp apple cider vinegar with the yoghurt and a pinch of salt.

Stir well and pour into a dish.

Put the dish back in the fridge until you are ready to use it.

Now set your oven to grill mode and grill the tomatoes for about 10 minutes. Keep a very close eye on the oven, as this can go very quickly!

Take the yoghurt out of the fridge.

Spoon the tomatoes onto the yoghurt, together with the herb mixture.

Pour a dash of Balance Delight over it and serve immediately.
---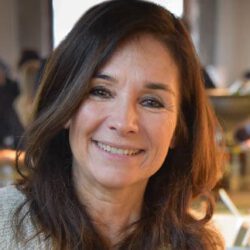 Chantal Voets
Chantal Voets, co-founder of Amanprana, loves cooking and prefers to share her knowledge, all kinds of facts and inspiration to anyone who wants to know.