Ingredients for green pesto recipe: wild garlic pesto (or rucola) with omega-3
150 g Fresh wild garlic (or rucola)
50 g Flat-leaf parsley
50 g Sunflower seeds
150 ml Olive oil (Amanprana Hermanos Catalan)
2 tablespoons Omega-3 Oil (Amanprana balance delight (hemp oil) Okinawa Omega-oil)
1 teaspoon Fleur de sel (Khoisan fleur de sel)
½ teaspoon Multicoloured pepper
1-2 teaspoons Herbs (Amanprana ORAC Botanico-mix, spicy)
3 Cloves of garlic
Preparation of green pesto recipe: wild garlic pesto (or rucola) with omega-3
Rinse and roughly chop the wild garlic (or rucola), parsley and cloves of garlic. Place in a blender together with the sunflower oil, the omega-3 oil and the herbs. Gradually increase the blender's power. Carefully mix all the ingredients together until the desired consistency is reached for the perfect wild garlic pesto. If you would like a thinner pesto, just add a little more olive oil.
Tip from Stefano:
Storage life of green wild garlic pesto with omega-3
The wild garlic pesto with omega-3 can be kept in a glass jar in the fridge for a few weeks. Cover the wild garlic pesto with a layer of olive oil to increase its storage life.
---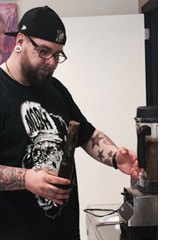 Stefano Vicinoadio
Who is Stefano Vicinoadio? Here at Amanprana we got to know him at an organic fair in Germany. We immediately hit it off and it turned into a great working relationship. Stefano is actually a photographer, and it is his passion. But his love for cooking has resulted in the most delicious recipes... together with great photos. Stefano describes himself as colourful, loud, a vegan, a friend, a discoverer, a digital nomad and straightforward.